Teacher: Ferreira (eferreira@hps.holyoke.ma.us)
Assignment:
https://www.youtube.com/watch?v=BPWk3SjKRAs
Have your child via iPad, computer, cell phone or smart TV listen/watch a read aloud "Chicka Chicka Boom Boom" using hand over hand assistance and adult support.
Haga que su hijo a través de iPad, computadora, teléfono celular o TV inteligente escuche / vea una lectura en voz alta "Chicka Chicka Boom Boom" utilizando asistencia mano a mano y apoyo de adultos.
After viewing the read aloud your child and you can play along and do a retell of the story. Find things around the house that start with the letters of the alphabet. Try it it will be fun remember to have your child touch and explore the items for complete sensory exploration.
Después de ver la lectura en voz alta, su hijo y usted pueden jugar y volver a contar la historia. Encuentra cosas en la casa que comiencen con las letras del alfabeto. Pruébelo, será divertido, recuerde que su hijo toque y explore los elementos para una exploración sensorial completa.
Vocabulary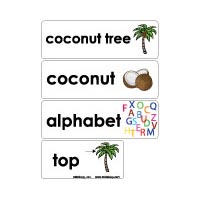 Read the vocabulary words to students using hand over hand assistance and adult support make a tactile vocabulary book by writing the words, drawing the pictures and gluing on things you can find to make it tactile like . Use your creativity.
Lea las palabras de vocabulario a los estudiantes usando la ayuda mano a mano y el apoyo de adultos, haga un libro de vocabulario táctil escribiendo las palabras, dibujando las imágenes y pegando las cosas que pueda encontrar para hacerlo táctil. Usa tu creatividad.
Files for this Assignment: